OK as you all know obviously now i have bigger tires but there was a time where I did a lot of mistakes building different differentials waisting time and money.
I went from a dana 30 w/ chromollys, to a D44 with Chromollys etc ,then to a Dana 50 ( thinking it was a dana 60) and know a Dana 60..
On this thread im just going to post pics of the dana 60 and sterling 10.50 rear.
I Pretty much bought a set out of a 2000 Ford Excursion. After doing all my research about going King Pin or Ball Joint I came to the conclusion that Ford doesnt make mistakes. If they switch the King Pin for Ball joints was a for a reason. The New Dana 60 the tubbing is alot more massive and it comes with 35 spline inner, a lot of the king pins out there are 30 spline inners and outters + they are very expensive compare to a $450 that dana 60 tha you can buy of a junk yard out of a 2002 and up Ford F250 or F350. The rear sterling 10.50 comes with disc brakes and 35 spline shafts making it SUPER HEAVY DUTY. its like a dana 70/80.
Here are some pics of the build. It was all done professionaly by Advanced Driveline here in Orlando FL.
In case you havent realized this is how heavy this things are lol:
All the brackets are from Ballistic Fabrication, The rear Craddle is from Rock Krawler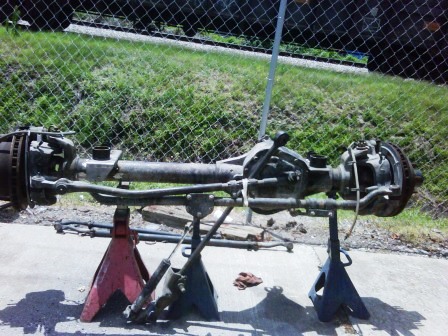 Rear Sterling 10.50